December 13, 2021
Serving 60 women in the community with free mammograms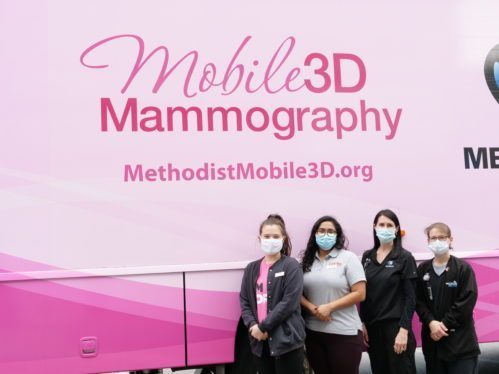 For 3 years, Methodist has partnered with the Latino Center of the Midlands' Family and Community Well-Being department to have a free mammogram event for women in Omaha. Methodist provided a mobile vehicle to take 3D mammograms, which are the most advanced and accurate.This year, we had 3 free mammogram events and served over 60 women!
The requirements to take the exam were to be under the age of 40, being vaccinated against COVID at least 4 weeks prior, and not be pregnant or breastfeeding. The mammogram is completely free for women who do not have health insurance or for those who have Methodist insurance.
Some of the women who were examined have never had the opportunity to do so. Maria Guadalupe Guzman is one of them. "I haven't had a mammogram in years. My daughter convinced me to come and the Methodist team made me laugh and feel welcome. I thank them all for providing this important service to the community," said Maria Guadalupe.
The Methodist team helped women feel comfortable and calm when taking their mammogram exam, and encouraged more women to take advantage of similar events at the Latino Center. Another reason why women like to attend this event is because of the time it takes. The mammogram exam is about 20 minutes compared to other clinics or hospitals, where they have to wait a long time. 
"This event is of great benefit to all women in our community because through the mammogram exam, the early stages of breast cancer can be detected early and treatment can be started in time," says Maria Valadez, coordinator of this event.
Events such as free mammograms are the most effective way to detect any type of breast cancer. We hope that next year we will continue to have events like this and continue to serve women in Omaha's Latino community. Thank you Methodist for making this possible!
Back to top